Israel was the first country to achieve large scale vaccinations of citizens over 40
It was assumed that the pandemic was over for them
Cases have grown again with the Delta variant
Do the vaccines work?
Let's find out!
1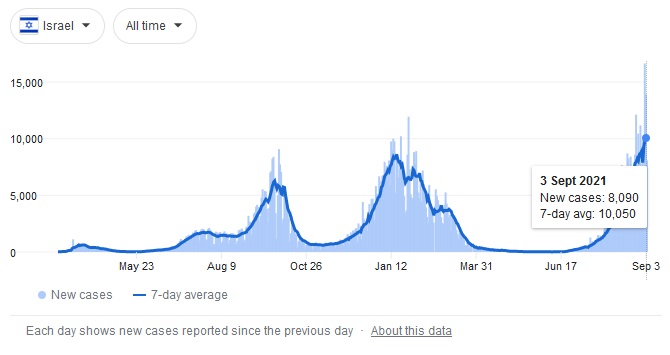 First off, you're only as good as your data set
I'm working off of @yuvharpaz's data which is linked below
Thanks to @RanIsraeli for the heads up
[ABN: Lacking for me in this worthy analysis is death by vaccine. This number should be added to death for vaccinated who get covid. Even in Israel we do not seem to have good figures for vaccine mortality. Steve Kirsch has put the number as high as 150K in USA. ABN]
2
https://docs.google.com/spreadsheets/d/1kiOrQxOtBg0__IoLkEZgqhMDpIQCXbBxEE78BwqcOs4/edit#gid=472501586
We all know that the Pfizer vaccine is quite leaky against symptomatic disease with effectiveness of somewhere in the 30+% range
Non-severe cases don't interest me for the sake of this analysis because infection/reinfection provides better immunity than vaccines
3
Rather I want to focus on the effectiveness of the vaccine against two outcomes:
-Severe Disease: identified as low blood oxygen
-Death from Covid-19
We will only be looking at data from the most recent Delta wave
4
First things first, we need to look at the vaccination status of the different age groups we'll be analyzing
Israel's lower overall vaccinated percentage is due to 1/3 of their population being under 14 (thx @pwyowell for pointing this out)
But they have an 88% vax rate >40
5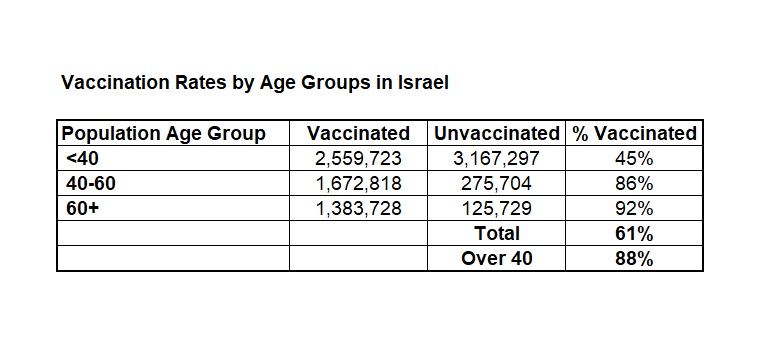 The three age groups we will be comparing are:
-under 40
-40 to 60
-over 60
In order to assess effectiveness, we need to look at rates of infection relative to the un/vaccinated population for each age group
Because if we look at the raw data, it gives a distorted image
6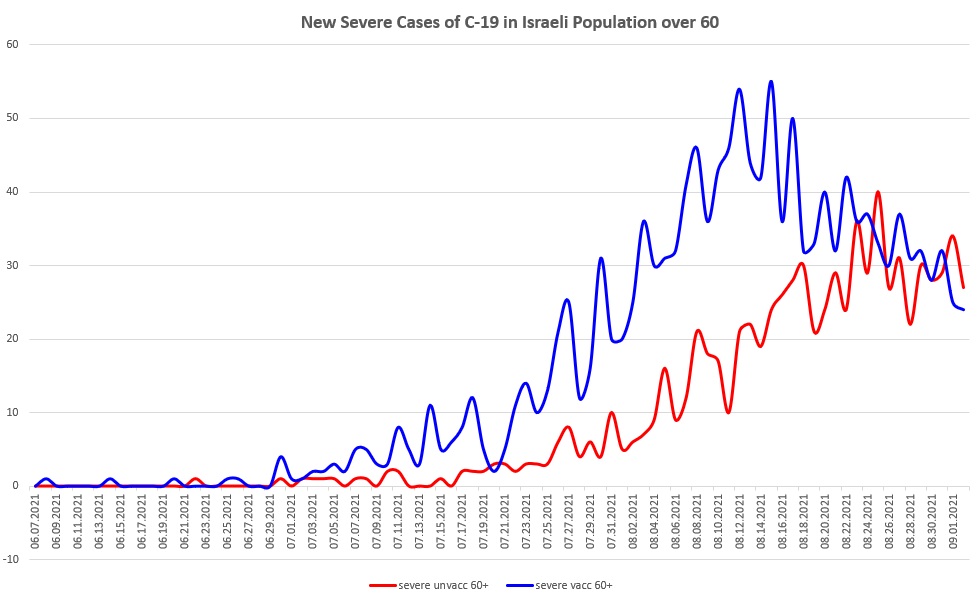 But when we adjust for the much larger percentage of the vaccinated population, the results are quite different
Here are the daily rates of severe disease (per 10,000) for those over 60
7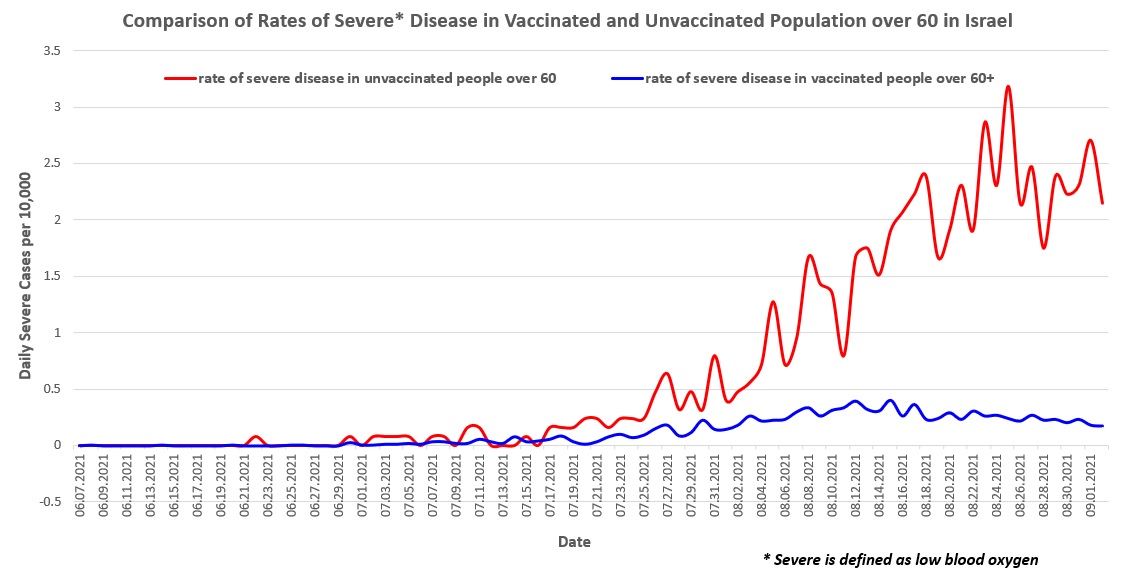 Here's the same data for the daily rates of severe disease (per 10,000 population) using a 7-day rolling average
8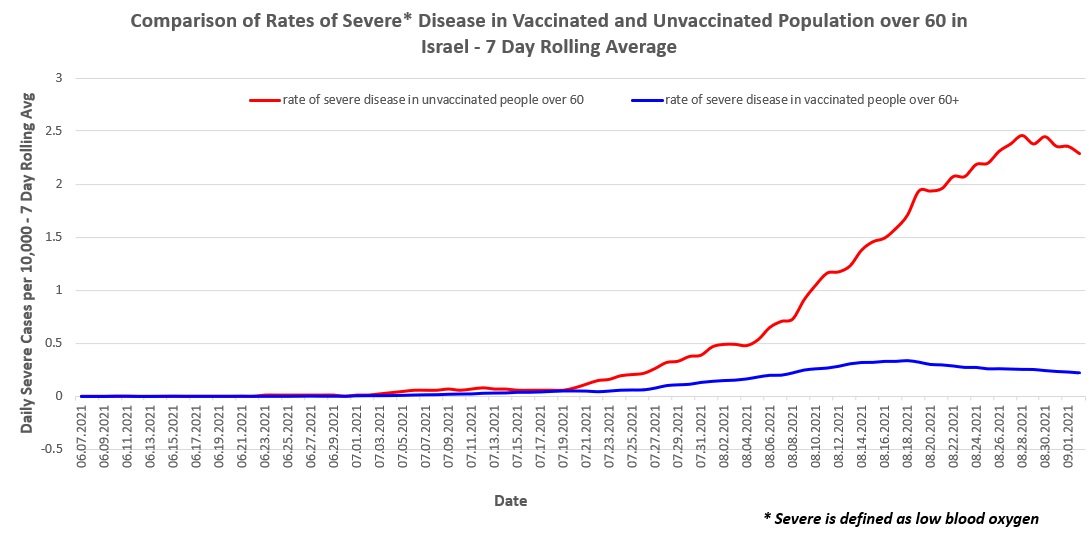 Below are both raw daily rates and 7-day rolling average for ages 40-60
9
Here are both raw daily rates and 7-day rolling average for ages <40
10
These daily rates of C-19 death (per 1,000,000 population) for people under 60
11
And finally we have daily rates of C-19 death (per 1,000,000 population) for people aged 40 to 60
No graphs necessary for those under 40
There were 7 deaths in the unvaccinated group and no deaths with the vax (100% effectiveness but probably not statistically significant)
12
Some observations:
-vaccinated people are significantly less likely to develop severe disease or die from Covid-19
-it's not clear if it has peaked yet
-for those vaccinated over 60, it appears they're on a downward trend – possibly due to booster shots
13
So what does this all mean in terms of the effectiveness of the vaccine?
Here is what the data says about vaccine effectiveness against severe disease and death by age group
What's interesting is how much more effective vaccination is in the 40-60 age group – 95% vs death
14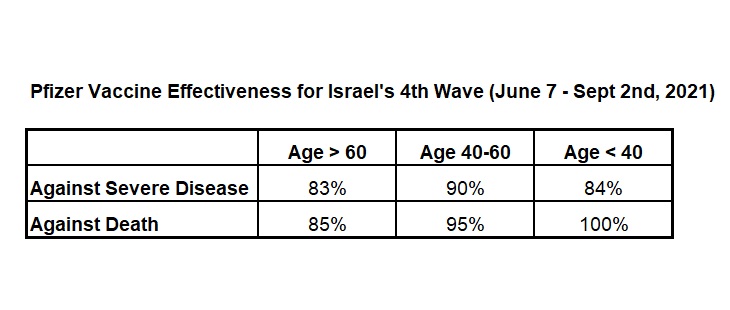 Discussion:
People seem to have broken down into two camps about the vaccines
The truth is somewhere in the middle
Vaccines were initially promised to be nearly 100% effective versus death
The decreased effectiveness to 85% of the older population is still pretty good…
15
But I guess it's a matter of perspective
Someone else may look at that and see the glass half empty
After all, this is still a comparative analysis based on relative rates
The relative difference may be high but the overall risk is still very small for most groups
16
I've said before that I am not going to recommend vaccination because I understand that there are unknown risks and plenty of anecdotal evidence of complications
But my objective for this dive was to see if the vaccine still works
Objectively speaking, they do still work
17
Not as well as they once did, but well enough to offset the risk of vaccination in my opinion
But again, there's a lot of nuance to the subject
How old are you? How's your health? How much do you weigh?
These seem to matter an awful lot
18
Moving forward I think there are two things that need to happen
-focus on new/repurposed drugs and early treatment
-let the virus travel…that's how we update our immune response to new variants
I cover the latter point in this thread
19
That's it
Hope you enjoy
Would appreciate a RT on the first tweet in this thread
20
Originally tweeted by Gummi Bear (@gummibear737) on September 4, 2021.
[ABN: Lacking for me in this worthy analysis is death by vaccine. This number should be added to death for vaccinated who get covid. Even in Israel we do not seem to have good figures for vaccine mortality. Steve Kirsch has put the number as high as 150K in USA. ABN]