@federalreserve jams them (along with other central banks) because they are certain that (1) rich people are good and (2) you need to be 'nudged' into believing everything is under control and ok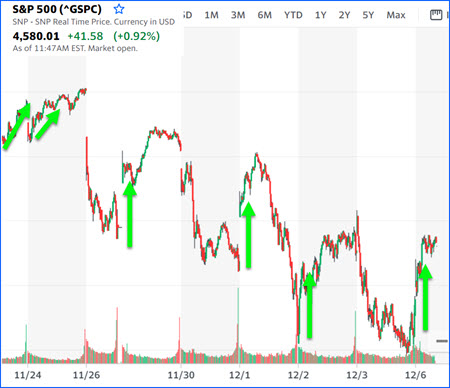 /2 Notice the pattern in the chart above? The ecosystem of corruption loves to jam stock futures in overnight ""markets"" to create a big blast of fake buying to stimulate organic buying. These rallies are 100% fake. But the damage they do to us all is very real.
/3 Each green arrow is a big blast of fake buying at the open and has exactly nothing to do with anything real. It's fake as shit. Except when it comes to insiders lining their own grubby, greedy pockets and corroding the social contract. Those effects are very real. #BadEnds
Originally tweeted by Chris "Early Treatment" Martenson, PhD (@chrismartenson) on December 6, 2021.