Can anybody tell me what these people have in common?
Wait until people start connecting all the Epstein & Ghislaine Maxwell family connections…
…and transhumanism…
I guess I need to be patient.
Houston, we have a problem…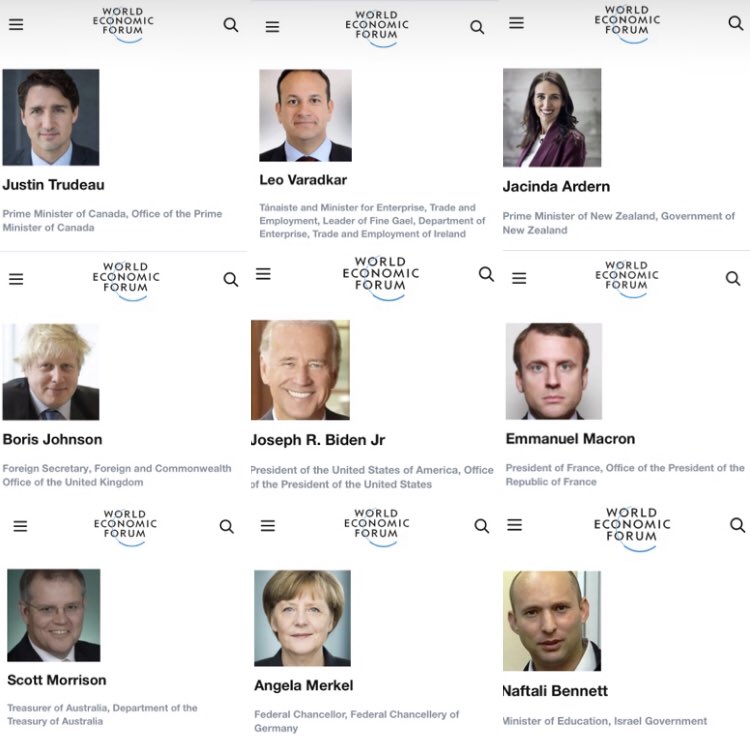 Originally tweeted by I do not consent (this tweet is misleading) (@Idonotconsent6) on September 20, 2021.
"bUt ThOsE aRe jUsT wOrLd lEaDeRs"…
True. Also, look how many were "Young Global Leaders", first.
Why execs, influencers, politicians, etc are only there, and have inly been there by exclusive invite, since inception in '71
In 2009, a group of Epstein-Ghislaine aligned billionaires discussed overpopulation & how to curb population growth. In 2012, Epstein held a "doomsday" conference consisting of many of the 🦠 or 💉 aligned scientists.
I find that interesting. Don't you?
In 2015, representatives for Gates & Benioff, who made a lot of wealth by hooking people to subscriptions to software (#SaaS), met to discuss future of healthcare tech, biotech, wearables, etc…we now have what appears to be vaccine subscriptions (#VaaS)
Isn't that something?
In 2017, Tedros & Schwab discussed "future collaboration of WHO-WEF"
In Nov 2019, they discussed "progress in health & development to deliver UN"
G7 "leaders" abandoned their individual liberty-centric models, while implementing draconian top-down🦠&💉 measures…
They're stripping you of electoral representation & imposing mechanisms that funnel you into irreversible👇🏼human augmentation w/o a vote
Forced via Corp TOS
At the time of this👇🏼writing, I perceived the intent of this 2019 WEF-UN merger as global socialism. That was incorrect. It is Technocracy (it includes facets from capitalism & communism). Main takeaway is it is a global governance model, extinguishing your individual sovereignty
Biden-appointed, (Maxwell-aligned) Blinken pushes global internet, while WEF, WHO, and Xi🇨🇳advocate for it to be structured like the great firewall of🇨🇳.
Combined w/bio digital IDs (now being pushed by WHO for "health"), they want to tie your internet behavior to your credit.
Ghislaine&Epstein + w/UN&WEF = everything occurring in current events. These aren't benevolent actors
Epstein&Ghislaine's family were involved with much of 4IR tech:
Opencog AI,Nikolic&George church🧬editing, Isreal venture network's social impact investing, transhumanism
Here is One of the Harvard 🧬 editing pioneers, George Church, as a guest at the joint Vatican-Clinton event. He's pictured here with Epstein.
Video below of Klaus Schwab discussing becoming "other than human".
Epstein, member of Harvard's Mind Brain Behavior (structure, function, evolution, development, aging & pathology of brain in context of human behavior, genetics&society)
Nikolic(Epstein's will)🧬-editing w/George Church-Editas
Pope promoting👆🏼👇🏼+Rothschild Inclusive Capitalism
The FBI will stop this, right?
👇🏼when they are attending Klaus Schwab's Cyberpandemic event that is plastered with #GreatReset & #FourthIndustrialRevolution agitprop?
During the time one would've thought they'd expend efforts investigating the election fraud allegations?
🇺🇳appointed Amir Dossal for COVID tech team
He was on Ghislaine Maxwell's TerraMar Board, Humpty Dumpty Institute w/Jeffrey's brother, Mark
His Global Partnership Forum has Marcus Chidgey of Transhuman Inc (IoT)
Has an MOU w/UN Women
TerraMar Scott Borgerson-CargoMetrics CEO
In the first tweet of this thread, Ted Turner was one of the billionaires mentioned in the WSJ/Associated Press overpopulation article. Here he is presenting Amir Dossal $1 billion donation to manage.
Also note Amir on Broadband Commission w/Tedros, from WHO.
Strange company…
Not only was Ghislaine Maxwell's TerraMar partnered w/UN & exchanging $ w/Clinton Foundation, her sister's Christine & Isabel were involved in FBI software👇🏼Isabel was behind several WEF projects, like social impact investing, and their father, Robert, attended invite-only WEF
The link to the actual WSJ article, if one wants to share…screenshots are in the first tweet of this thread:
Epstein aligned Biden Admin/partners
Eric lander, Gayle Smith, Clintons, Lynn Rothschild, Larry summers, Steven Pinker, Martin Nowak, Amir Dossal, Scott Borgerson, Boris Nikolic, Melanie Walker, B Gates, Marvin Minsky, Lawrence Strauss, Prince Andrew, Alan Dershowitz, Blinken
Don't you find disconnect between people looking to "promote longer life" through💉, human augmentation, bioconvergence, transhumanism
…while claiming🌍overpopulation, people useless after 75, and climate change (control of resources)
to be a disturbing contradiction?
I do.
Malthus
CCP's One Child Policy
Gates
Boris Johnson & Stan Johnson
Rockefeller University board member Jeffrey Epstein
People ought to consider the connections
Thread, tying more of this together:
Rockefeller created Club of Rome, who wrote "Limits to Growth" study, which concluded🌎population would exceed🌎resources, therefore "climate change" to control resources = control population
Michael Dorsey – Club of Rome, Obama, Clinton, EPA, exchanged $ w/Ghislaine's TerraMar
Ted Turner, part of The Good Club at the top of this thread was also part of Rockefeller's Club of Rome
While I've not, yet, found where this is cited, many claim he said👇🏼
"A total world population of 250-300 million, a 95% decline from present levels, would be ideal"
Originally tweeted by Jesse "Please👀Epstein=Klaus Schwab crew" Matchey (@JesseMatchey) on September 6, 2021.
Originally tweeted by Jesse "Please👀Epstein=Klaus Schwab crew" Matchey (@JesseMatchey) on September 23, 2021.
Besides the obvious (WEF)
Melanie Walker
Boris Nikolic
George Church
Does it make you feel comfortable that the guy in the above tweet, is the guy in this tweet?
Another thread on Melanie Walker:
More on George Church:
More George Church:
Originally tweeted by Jesse "Please👀Epstein=Klaus Schwab crew" Matchey (@JesseMatchey) on October 9, 2021.