1) A UNIFYING THEORY OF COVID-19 PATHOLOGY: THE SPIKE PROTEIN AS SCLEROTHERAPEUTIC
TRANSFORMING THE VASCULATURE INTO SCAR TISSUE
Finally, I am now confident that I have determined the ultimate pathology of the Spike Protein. To understand this, it is first necessary to understand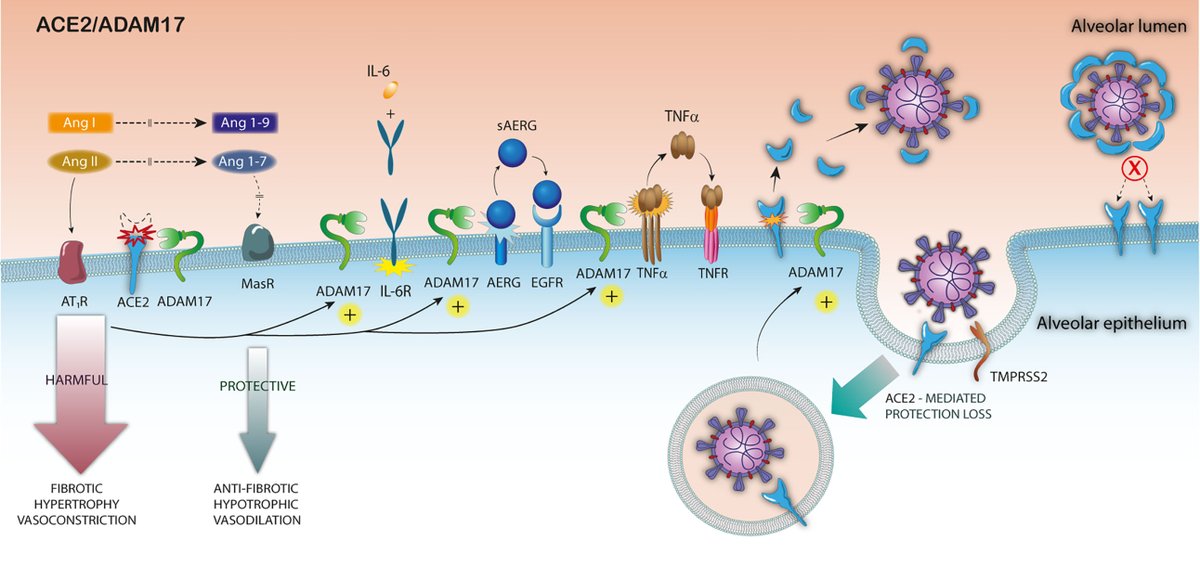 2) that it begins in the MICROVASCULATURE and is UNDETECABLE by conventional imaging techniques.
First, it was known in 2008 that modulation of TNF-alpha-converting enzyme by the spike protein of SARS-CoV and ACE2 induces TNF-alpha production and facilitates viral entry.
3) However, this modulation also allows for tumor necrosis factor alpha to be converted into its active soluble form.
The same has been observed in SARS-CoV-2. Indeed, the exacerbated ADAM17—mediated ACE2, TNF-α, and IL-6R secretion emerges as a possible underlying mechanism for
4) the acute inflammatory immune response and the activation of the coagulation cascade.
So, where does the Sclerotherapeutic factor come into play? Vascular fibrosis and obliteration occur only in response to irreversible endothelial cellular destruction and exposure of the
5) underlying subendothelial cell layer.
What you may not know, is that performing this action ON PURPOSE is actually a THERAPEUTIC when dealing with various venous issues. A CONTROLLED destruction of certain endothelial cells will be induced as a THERAPY.
6) However, the circulating Spike Protein targets all of the body's endothelium.
What does this explain?
Everything.
CANCER – Endothelial cells can be activated by cytokine signaling and express inflammatory markers, which can sustain or exacerbate the inflammatory process.
7) For example, the activated endothelium can recruit and activate leukocytes, thus perpetuating tissue inflammation, while sustained stimulation of endothelial cells may lead to endothelial-to-mesenchymal transition that contributes to fibrosis. Since chronic inflammation has
8) now been recognized as a significant contributing factor to tumorigenesis, it has also emerged that activation of endothelium also occurs in the tumor microenvironment.
NEURODEGENERATION – Brain small vessel disease (SVD) refers to a variety of structural and functional
9) changes affecting small arteries and micro vessels, and manifesting as white matter changes, microbleeds and lacunar infarcts. Growing evidence indicates that SVD might play a significant role in the neurobiology of central nervous system (CNS) neurodegenerative disorders,
10) namely Alzheimer's disease (AD) and Parkinson's disease (PD), and neuroinflammatory diseases, such as multiple sclerosis (MS).
ISCHEMIA (HEART ATTACKS AND STROKES) – Accumulating evidence indicates that the cardiovascular manifestations of COVID-19 are likely due to a
11) profound endothelial alteration secondary to circulating inflammatory cytokines and/or direct viral invasion of the endothelium.
I urgently request that all Spike Protein therapies be put on an immediate hold as this hypothesis is investigated.
https://jbiomedsci.biomedcentral.com/articles/10.1186/s12929-019-0580-3
12) https://www.ncbi.nlm.nih.gov/pmc/articles/PMC8125719/
https://pubmed.ncbi.nlm.nih.gov/31656195/
https://www.ncbi.nlm.nih.gov/pmc/articles/PMC8680072/
https://pubmed.ncbi.nlm.nih.gov/20486929/
https://www.frontiersin.org/articles/10.3389/fimmu.2020.576745/full
https://www.sciencedirect.com/topics/medicine-and-dentistry/vascular-fibrosis
https://pubmed.ncbi.nlm.nih.gov/18490652/
Originally tweeted by Walter M Chesnut (@Parsifaler) on February 17, 2022.