MMWR Week 18 Comprehensive Covid Update
We begin with SAAAADD (Non-Natural) Deaths.
The 'seasonal' decline has hit its floor and looks to sustain here for the next 10 weeks at the least.
1/10
Now the continued bad news:
Cancers have risen to a 9 sigma event for (despite being smoothed and not including pull forward effect), and
The actual figures continue to outpace my lag-adjusted provisional figures week to week 🙁
2/10

Nephritis and nephrotic syndromes are at a 4 sigma event.
Notice however that this did not begin with the introduction of remdesivir in Oct 2020. It features instead, the same very familiar initiation date of MMWR Week 14 2021.
3/10

Cerebrovascular diseases bear the same, MMWR Week 14 2021 initiation date, escalating to a current sigma of 4.4.
4/10

Abnormal Clinical and Lab Findings flux curve descended very slightly from the Apr 23 peak. I was really hoping that this flux category would drop off significantly after the winter Covid peak. This has not happened.
5/10

In all, these excess death escalations since MMWR Week 14 of 2021 are comprised by the Excess Non-Covid Natural Cause Excess (highlighted in yellow below).
This is growing at 3600 deaths per week, while Covid itself is producing ~1700 even with some over-ascription.
6/10

When we show the arrival timeline of these Excess Non-Covid Natural Cause Deaths, we observe both
– the MMWR Week 14 onset, and
– that the majority of these excess non-Covid deaths are in the 15 – 64 age range (yes, I know the charts show '54')
7/10

At the same time, we monitor the ongoing dance between proto-Covid, WAD Covid, and the background high-variation set of strains (formerly called 'Omicron')
Could these BA.x series deaths have been falsely attributed to flu (since we could not detect them at the time)?
8/10

The net contribution of all this to the All Cause Deaths Summary continues to show that Cancer-Cerebral-Kidney-Heart and Unknown Cause (R99) deaths are far outpacing Covid deaths right now in terms of pandemic excess.
9/10

In terms of the most egregious manmade causes of death in US history, Unknown-Cancer-Cerebral-Heart-Nephrotic Excess Death count is growing fast, currently at our 4th most disastrous event.
We fear now there is no post-winter anticipated decline in this death category.
10/10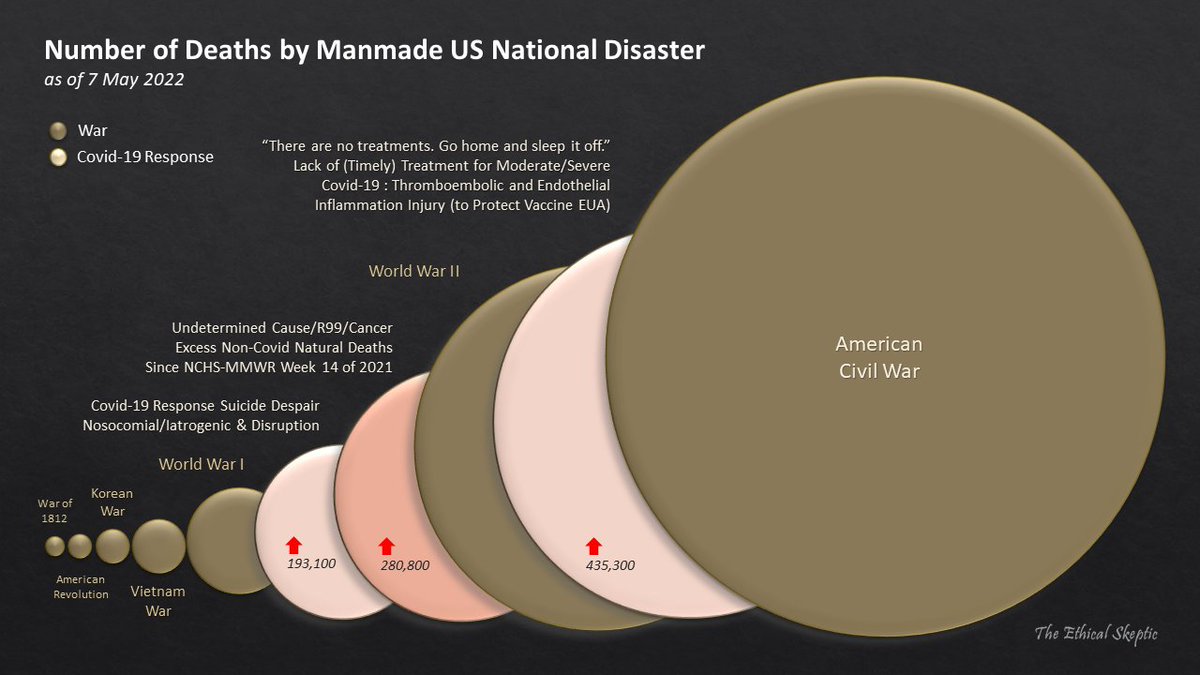 Originally tweeted by Ethical Skeptic ☀ (@EthicalSkeptic) on May 13, 2022.