Did the Bidens sell classified documents to Chinese intelligence?
Hunter has repeatedly acknowledged that he worked for Chinese intelligence.
"My representation of the f*ckin spy chief of China."
1/ Hunter sent a text to Hallie saying that he was involved in "brokering a deal with Vladimir Putin."
And China had arrested "CIA operatives" in retaliation for the DOJ arresting his "client the chief of intelligence of the people's republic of China."
https://kanekoa.substack.com/p/exclusive-hunter-biden-texted-hallie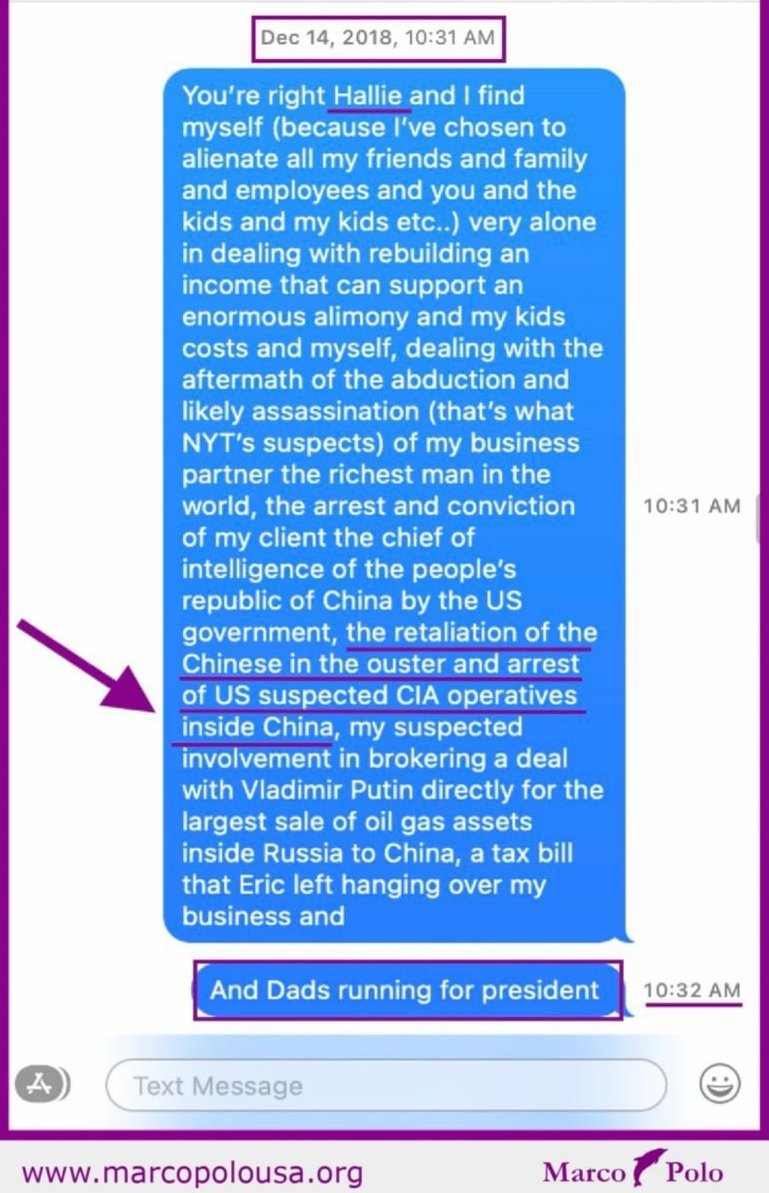 2/ In 2017, Hunter Biden acted as a "personal attorney" to CEFC's Ye Jianming in a deal to purchase 14% of Russian oil giant Rosneft which faced US sanctions.
At the time, Hunter's business partner CEFC's Zang Jianjun was photographed toasting with Vladimir Putin in Budapest.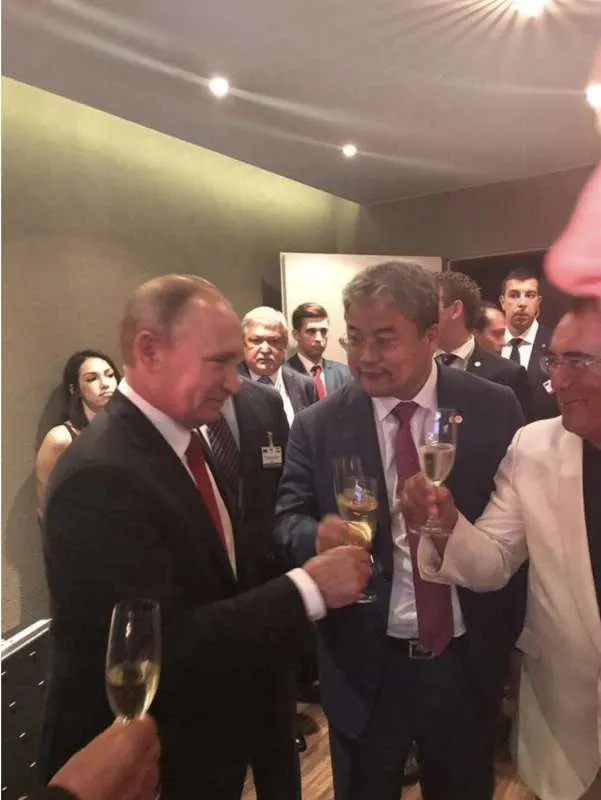 3/ The Biden family partnered with CEFC to spread Chinese colonialism across the west as part of Xi Jinping's Belt and Road Initiative.
Ye Jianming told Reuters the Rosneft purchase was "mainly driven by China's Belt and Road Initiative."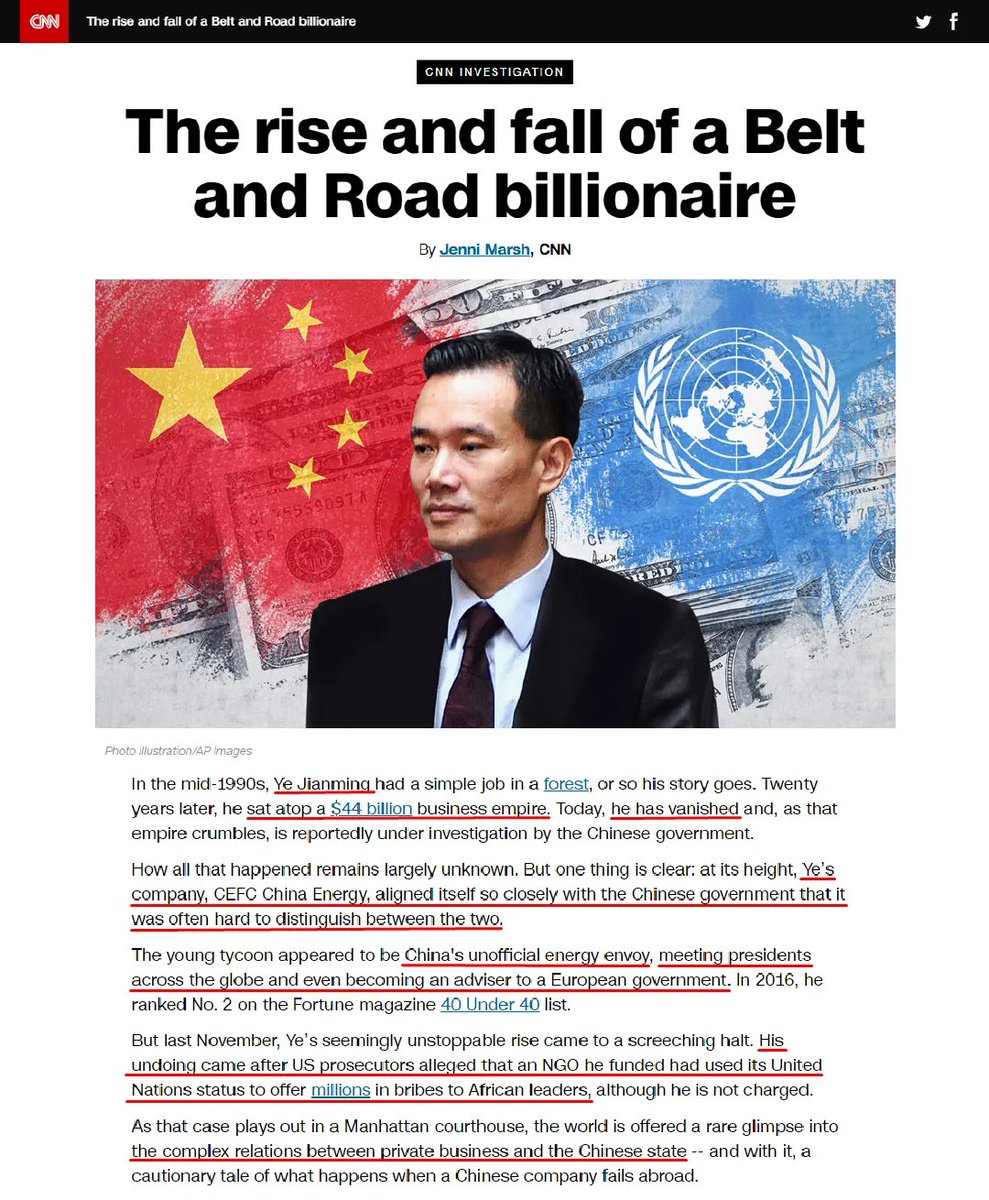 4/ In total, the Bidens received at least $31 million from Chinese businessmen linked to the highest levels of Chinese intelligence.
Mostly from Hunter's Bank of China-funded investment firm Bohai Harvest and CEFC.
https://nypost.com/2022/01/27/chinese-elite-have-paid-some-31m-to-hunter-and-the-bidens/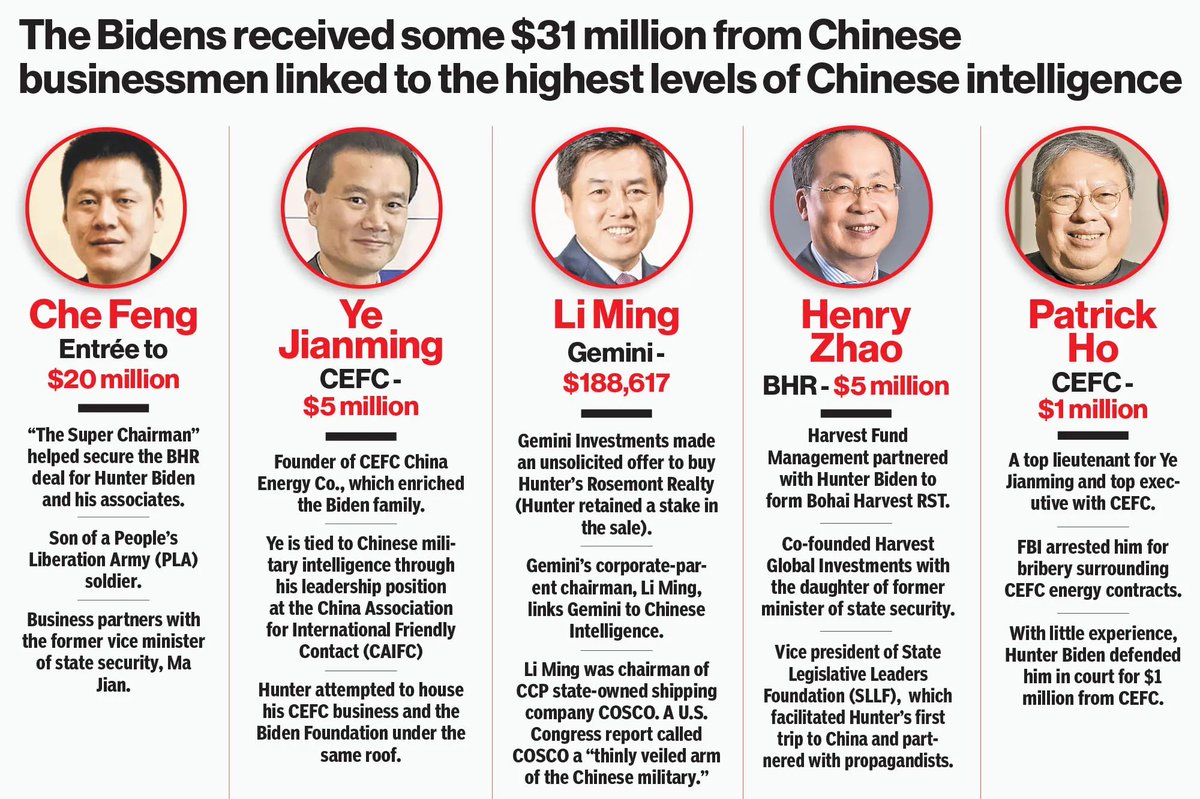 5/ On Nov. 18, 2017, CEFC came crashing down.
FBI agents arrested Hunter's business partner Patrick Ho for bribing the President of Chad and Uganda's foreign minister.
Patrick offered them millions in cash payments in exchange for oil rights in their countries.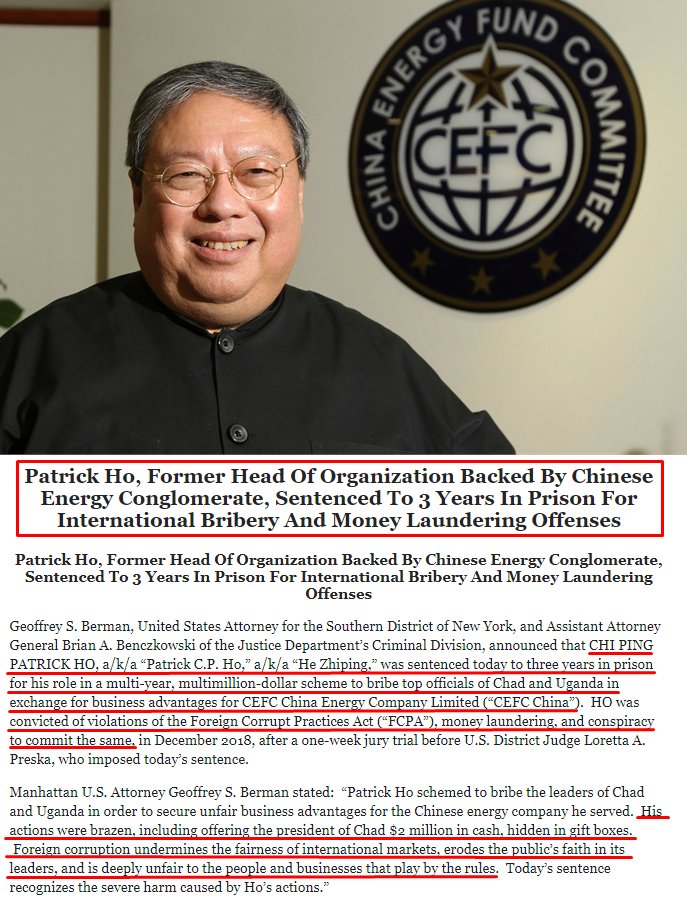 6/ Hunter Biden was paid $1 million to represent the man he called the "spy chief of China," Patrick Ho.
In an email found on the #BidenLaptop, NYT reporter Matthew Goldstein asked Hunter why Patrick Ho's first call after his arrest was to Joe Biden's brother James Biden?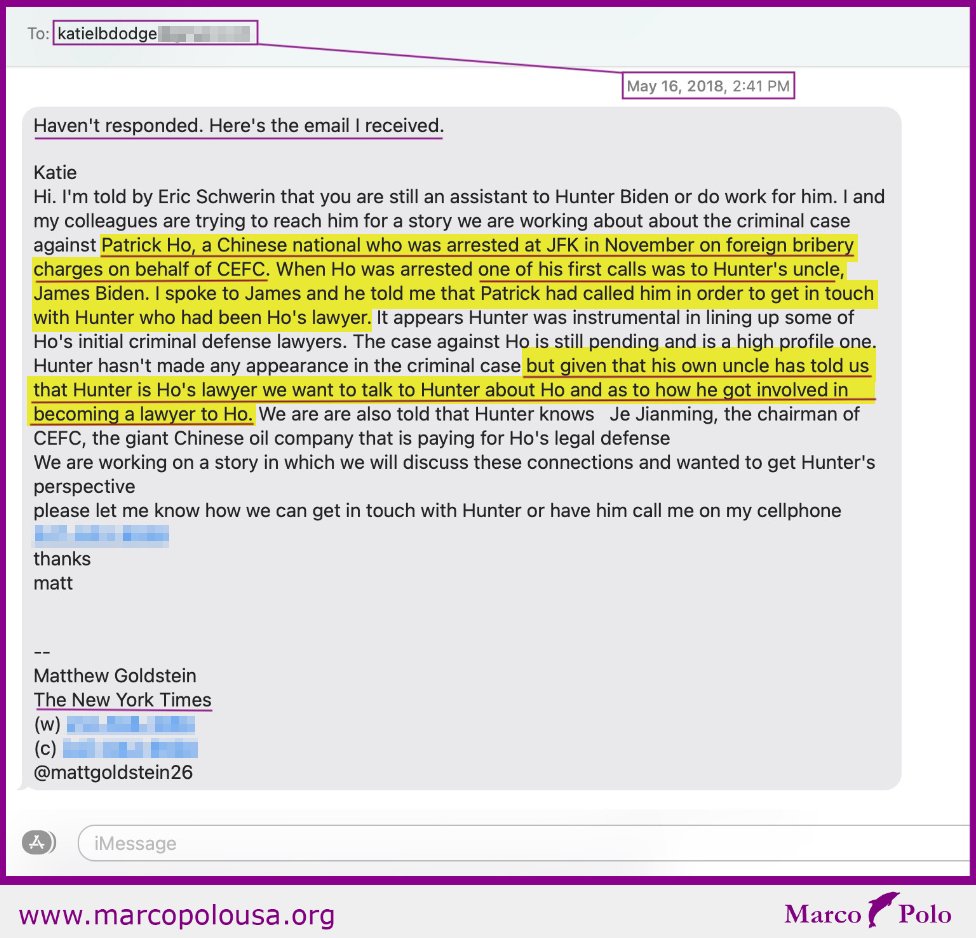 7/ Joe Biden called Hunter in late 2018 to discuss the NYT article detailing his son's dealings with the "spy chief of China," — telling him:
"I think you're clear."
The call contradicts Joe's repeated statement that he never talked to his son about his overseas business deals.
8/ The Bidens sold access to the highest levels of the US government to officials linked to Chinese intelligence.
In a 2017 email, Hunter wrote that Ye Jianming had agreed to a "rate of $10M per year for a three-year guarantee total of $30M" for "introductions alone."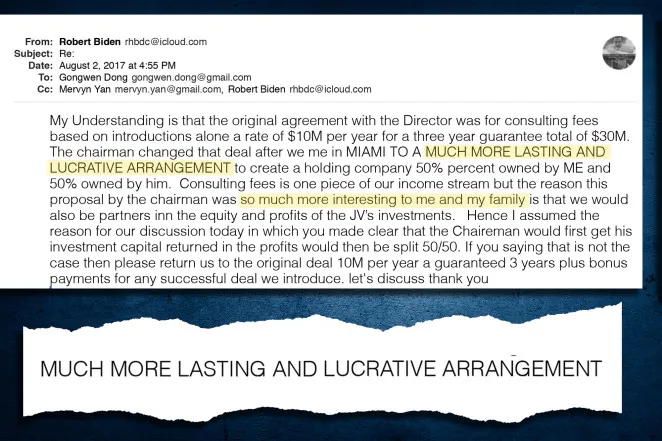 9/ In 2019, Hunter sent a text message to his daughter that said he gave "half" of his salary to Joe Biden for the last 30 years.
Hunter lamented that Joe made him pay "everything for this entire family."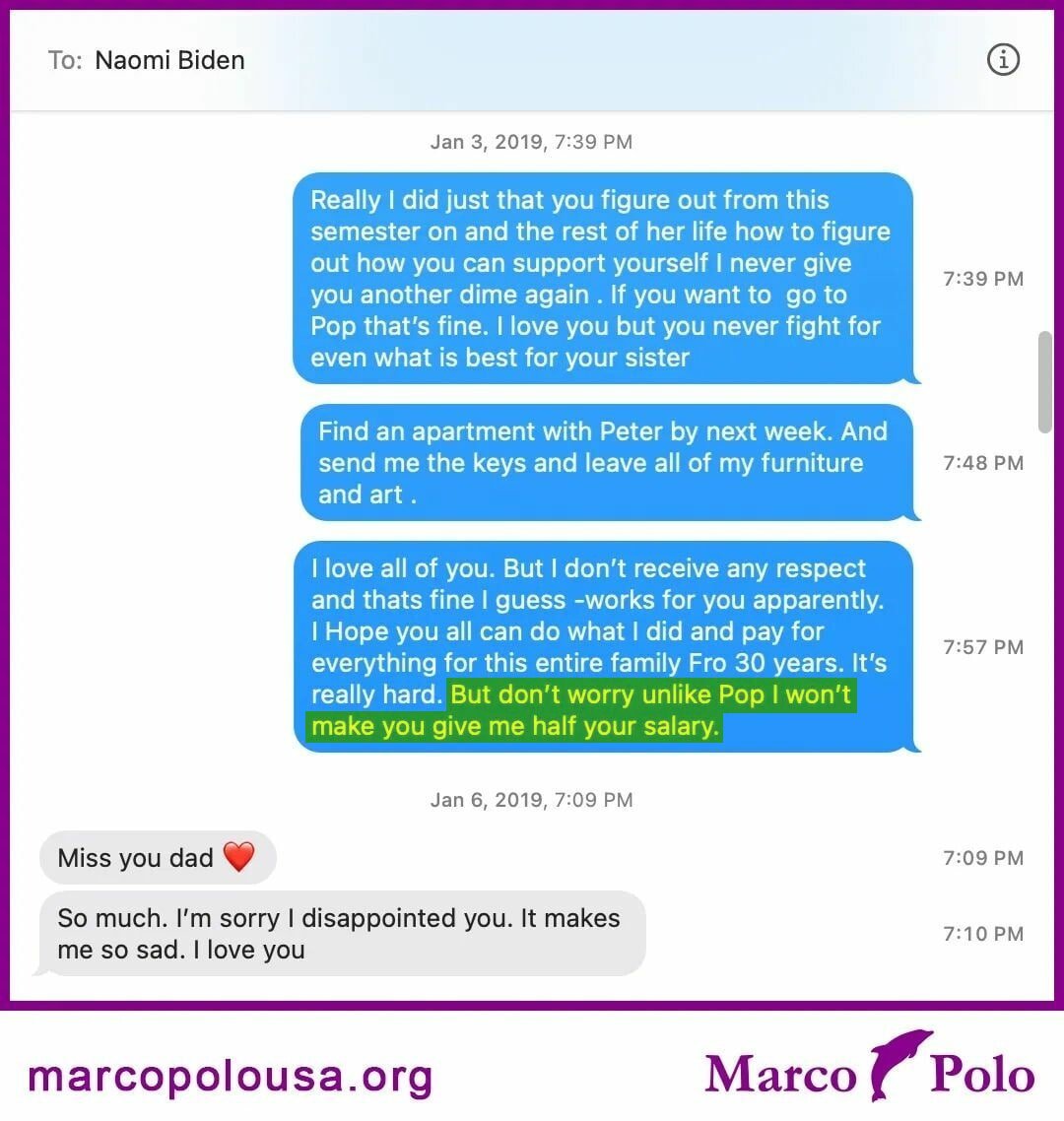 10/ In a 2018 background check, Hunter claimed to pay $49,910 a month in rent at the Biden's Delaware home, where classified documents were found.
Is this how Hunter laundered the millions received from Chinese officials and gave "half" of his salary to Joe Biden?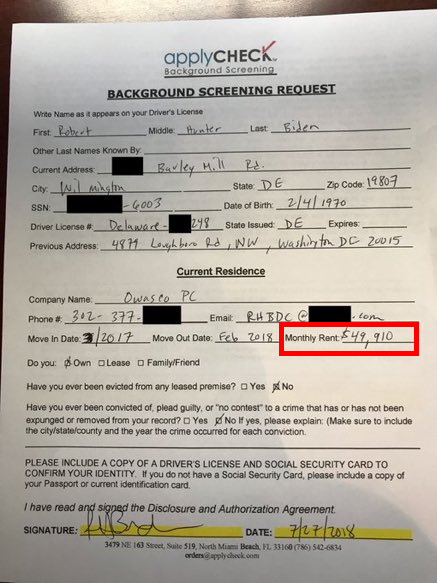 10/ In 2017, while Hunter received millions from CEFC, Joe and Jill Biden made more money than the previous 19 years combined.
Joe & Jill Biden's Income in 2016:
—$396,456
Joe & Jill Biden's income 2017-2019:
—$16,596,979
https://www.forbes.com/sites/michelatindera/2020/10/22/how-the-bidens-earned-167-million-after-leaving-the-white-house/?sh=64774b2d1e42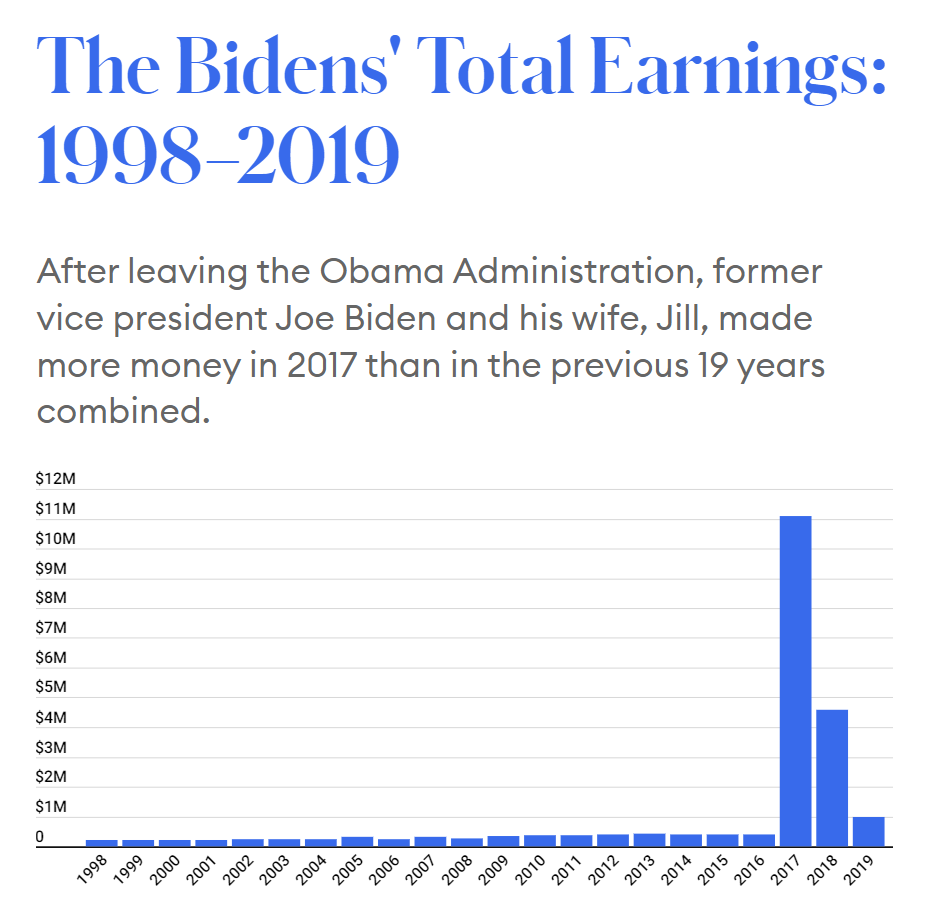 11/ Incredibly, at the same time, Joe Biden declared $5.2 million more income on his tax returns than he did on his government transparency reports.
And Hunter's emails reveal Joe paid his son's legal fees for his Chinese business deal.
https://www.dailymail.co.uk/news/article-10728521/Financial-records-reveal-Joe-Biden-5-2million-unexplained-income.html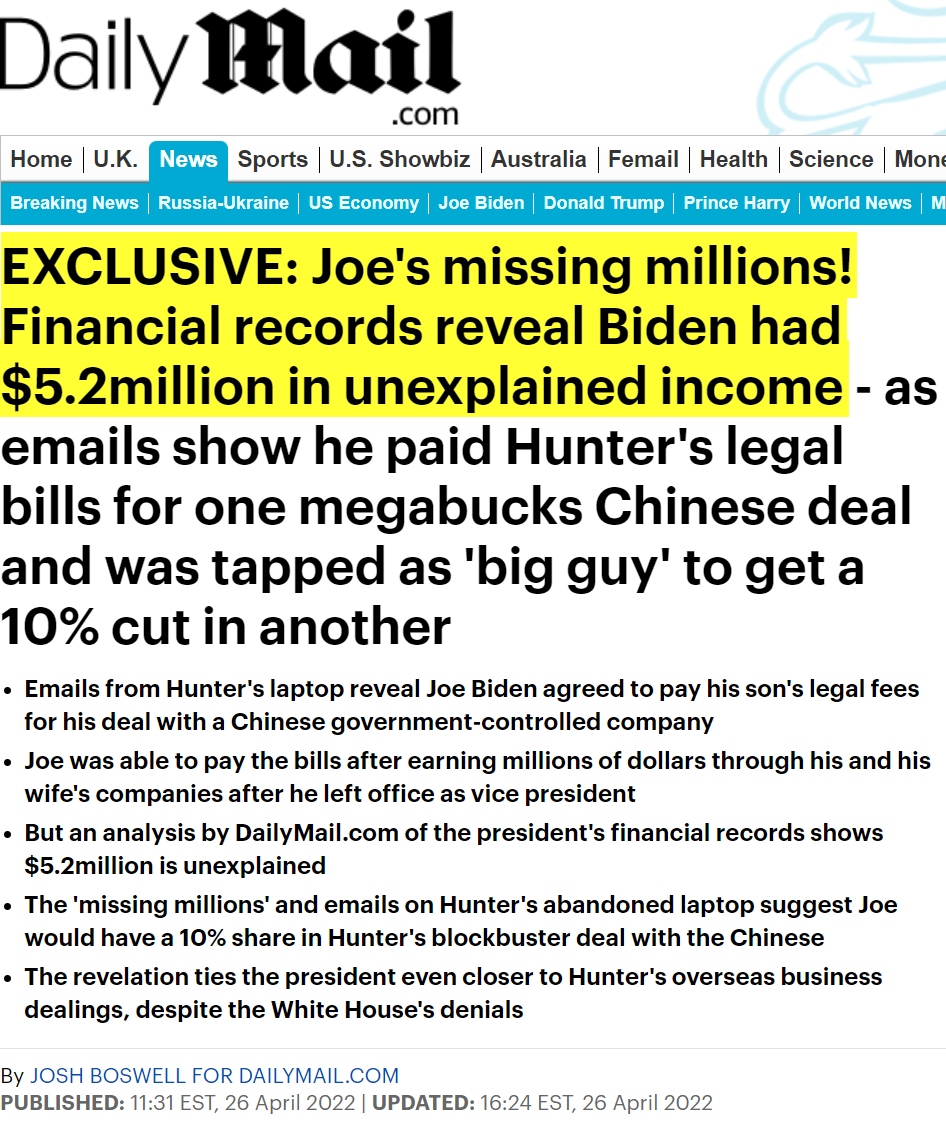 12/ Did Joe receive money from Hunter's Chinese business deals?
Regardless, the @MarcoPolo501c3 report thoroughly documents 459 violations of state and federal laws found on the #BidenLaptop.
•140 business crimes
•191 sex crimes
•128 drug crimes
https://marcopolousa.substack.com/p/report-on-the-biden-laptop
13/ The Bidens worked with the "spy chief of China," brokered a $9 billion oil deal for Vladimir Putin and got paid millions to spread China's Belt and Road.
If this were the Trump family, the corporate media would call this treason & talk about it 24/7.
14/ If the Biden family was willing to partner with the "spy chief of China" on the Belt and Road, would they sell classified documents to China?
I highly recommend you follow @MarcoPolo501c3 to learn about the hundreds of crimes committed by the Biden family & their associates.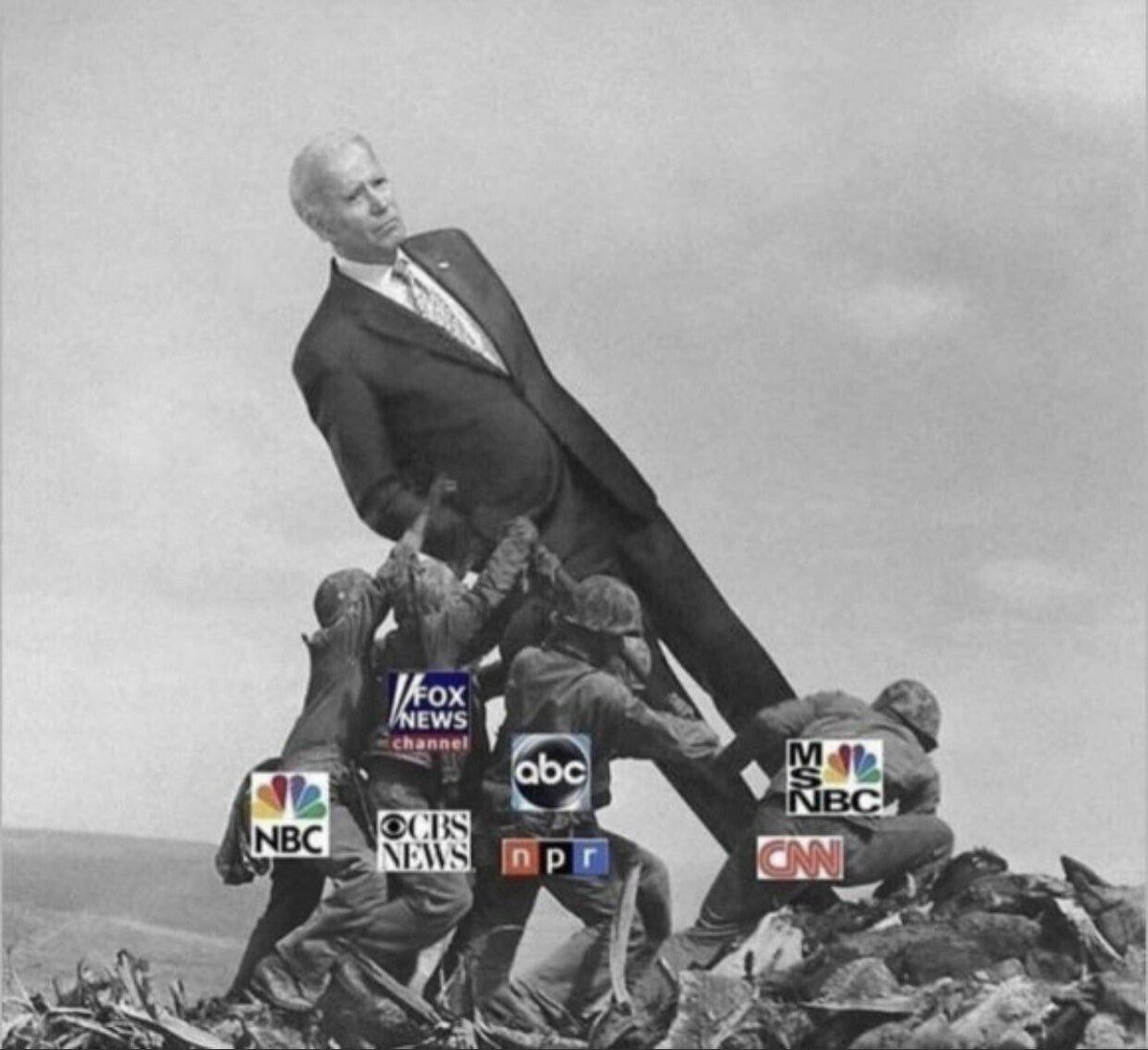 15/ Chuck Todd: "Do you have a crime that you think Hunter Biden committed?"
Sen. Ron Johnson: "You should read the @MarcoPolo501c3 report."
630 pages, 2,020 citations, and 459 crimes committed by the Biden family & their business associates
Originally tweeted by kanekoa.substack.com (@KanekoaTheGreat) on January 16, 2023.