With all due respect, the lab leak theory of a killer virus is utter nonsense as there was no killer virus in the wild. The killers were wrong, delayed and no treatment, the NPIs and the unnecessary, negatively effective, life-threatening modRNA and DNA injections.
It was (mainly) a RT-PCR testing pLandemic! "In many countries, for example in Switzerland, [in 2020] there was no exceptional excess mortality when adjusted to changing demographics. The excess mortality in other countries is the best proof that the real killer is not the virus, but our paradoxical response to it, which differs from country to country and from jurisdiction to jurisdiction."
[From killer virus to no virus and most everything in-between. Factor in fraudulent PCR tests, banned early treatment, mandated deadly treatment, proved lies by government officials and we can see a deadly sordid mystery at best and a planned military violent psyop by unknown actors at worst. ABN]
https://twitter.com/i/web/status/1652275756267978752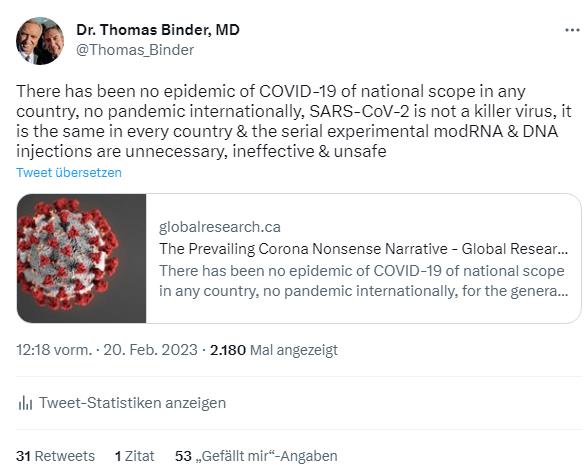 Should you need studies that prove what I have theorised based on (medical) knowledge and logic, I recommend those by @denisrancourt et al.
Originally tweeted by Dr. Thomas Binder, MD (@Thomas_Binder) on April 29, 2023.