Italy. Without a shadow of doubt, no intervention – lockdowns, social distancing, school closures, community masking, NOTHING – made any difference whatsoever in terms of overall excess mortality. Not one little bit. Nada.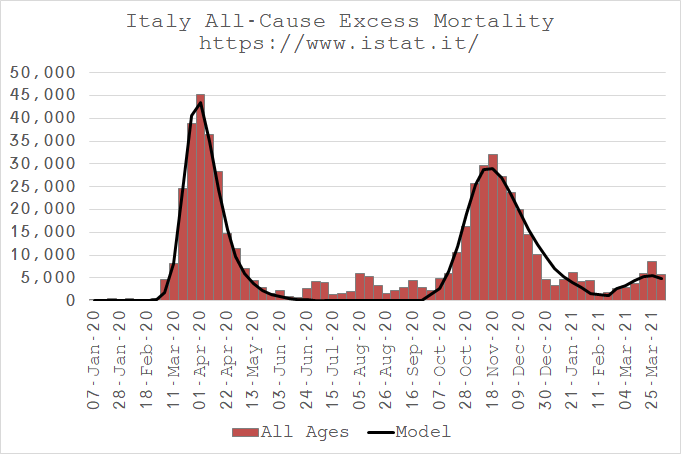 No age group under 70 experienced any significant excess mortality. Even the 70-79 year old age groups is barely perceptible. Only the 80+ year old age group has been affected throughout the entire corona situation (I struggle to call it a lasting pandemic).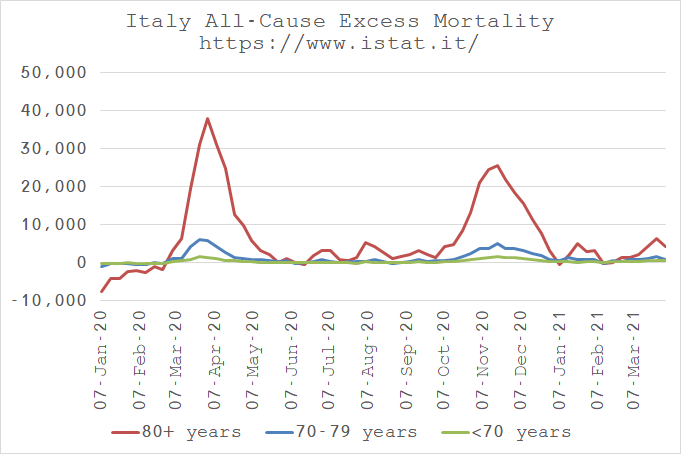 Lombardia had by far the most severe impact but there is absolutely no deviation from expected excess mortality predicted by my model, calibrated to the data series before any intervention could have made an impact.
It's the same story for Emilia Romagna. These two regions were hit first and hardest in the spring epidemic. They suffered relatively much less in the following autum/winter which makes complete sense when you think about herd immunity and the size of the susceptible population.
As we go down through the other regions, there is little more to say. It's the same story regardless except as already mentioned, those regions that suffered relatively less in spring, experienced relatively worse outcomes in autumn/winter.
As usual, I used a simple 2-factor exponential decay model calibrated with data up to 01-Apr-2020 for wave 1 and 02-Dec-2020 for wave 2 on the assumption that interventions had an effect. Here are the top 4 wave 1 as examples.
So, with this proof that interventions provided no benefit whatsoever in postponing deaths, let alone saving lives, all that remains is to count the cost.
Here's the model for Lombardia if anyone else wants to scrutinise.
https://drive.google.com/file/d/1nCfAdxlC5vFpb6QXYY85xdM7TIP_uzC2/view?usp=drivesdk
Originally tweeted by Joel Smalley (@RealJoelSmalley) on June 28, 2021.