1/ Here is my review of the @ojwatson92 @azraghani Lancet GIGO paper which has nothing to do with science.
Forecast what did not happen. With models that failed to predict anything.
Those people can also model, that it would have snowed in Amazonas.
https://www.thelancet.com/journals/laninf/article/PIIS1473-3099(22)00320-6/fulltext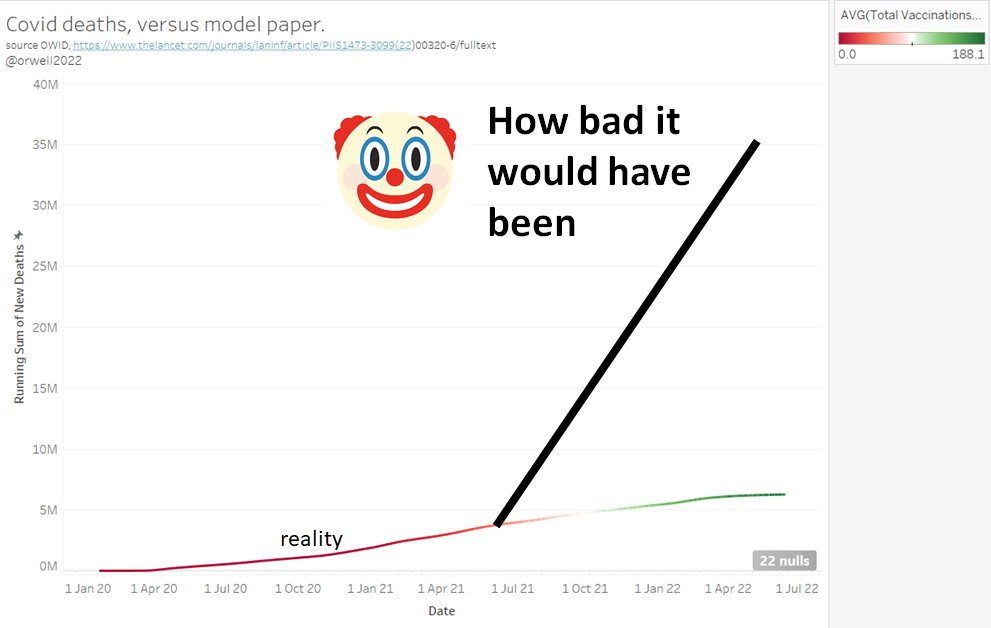 2/ The easier explanation is: The VE have little to do with reality. Also the post cohort matched data is still confounded. We can see a proof on this confounding in the Dutch mortality all cause data: The magic effects on all causes of deaths? Magic? No, but confounding.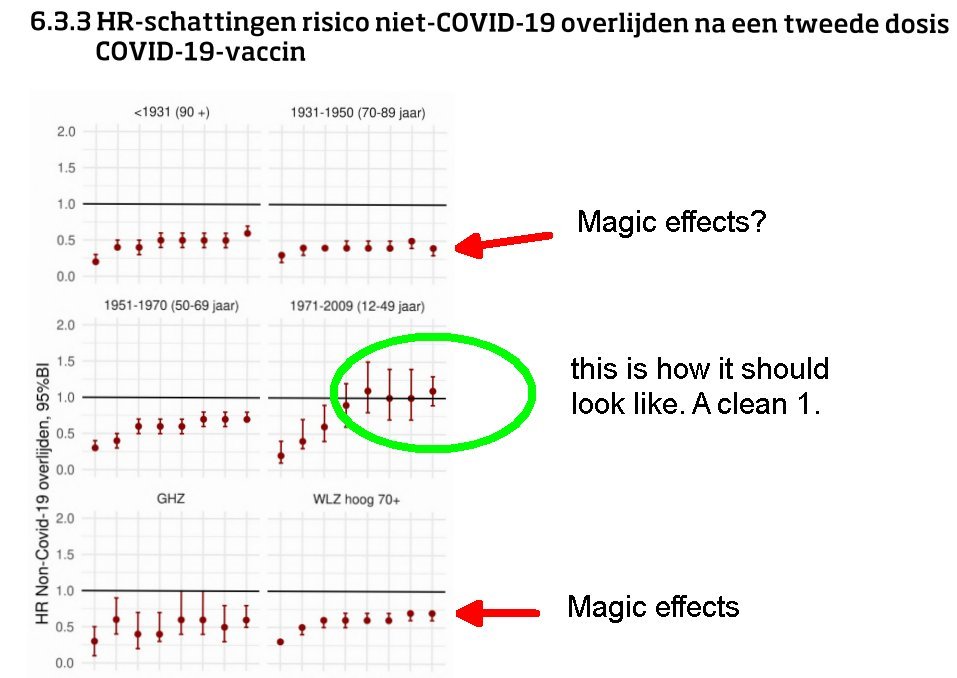 3/ If those people would have done a forecast upfront (which is how science works) in February 2021, they would likely have had the black curve. What the authors in this paper do is not science. The fit imaginary data (how it would have been) to the postulated VE = Not science.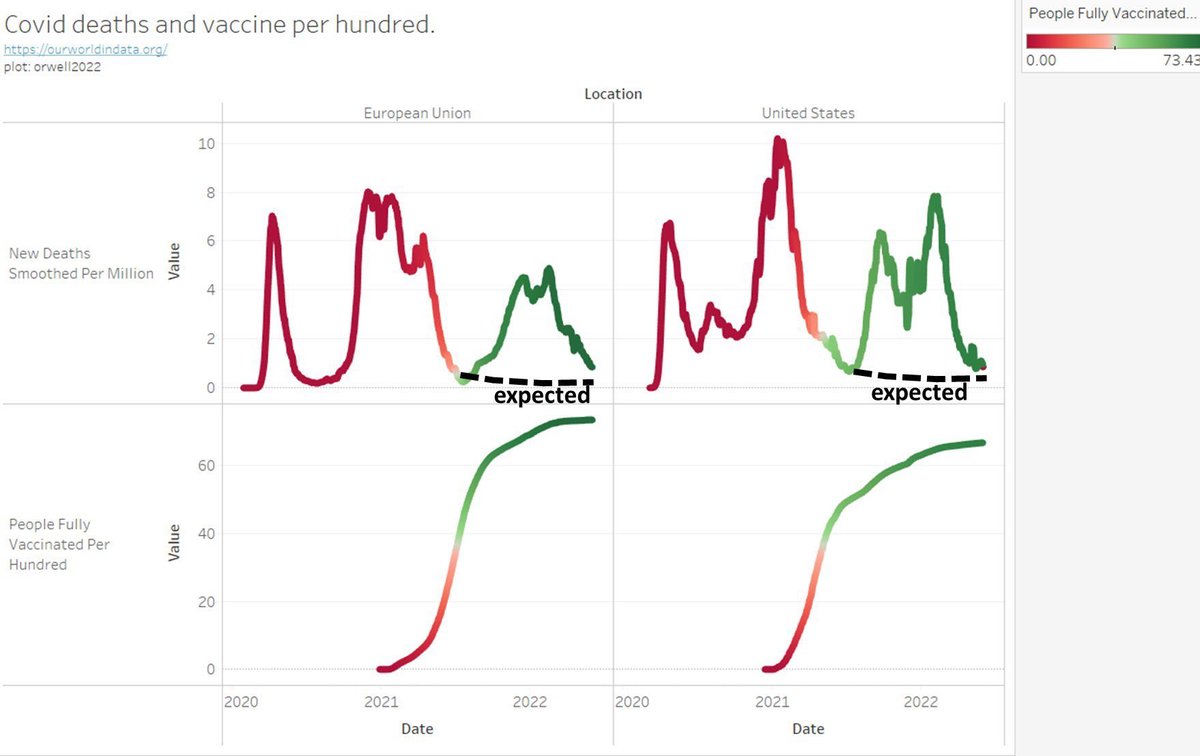 4/ They can also be falsified and ridiculed easily. There are unlimited contradictions in their fantasy GIGO.
👉Please explain NYC versus Amish. They can't and won't try.
👉Please show us the forecast you did in 2021 February. They can't as they didn't or embarrassing wrong.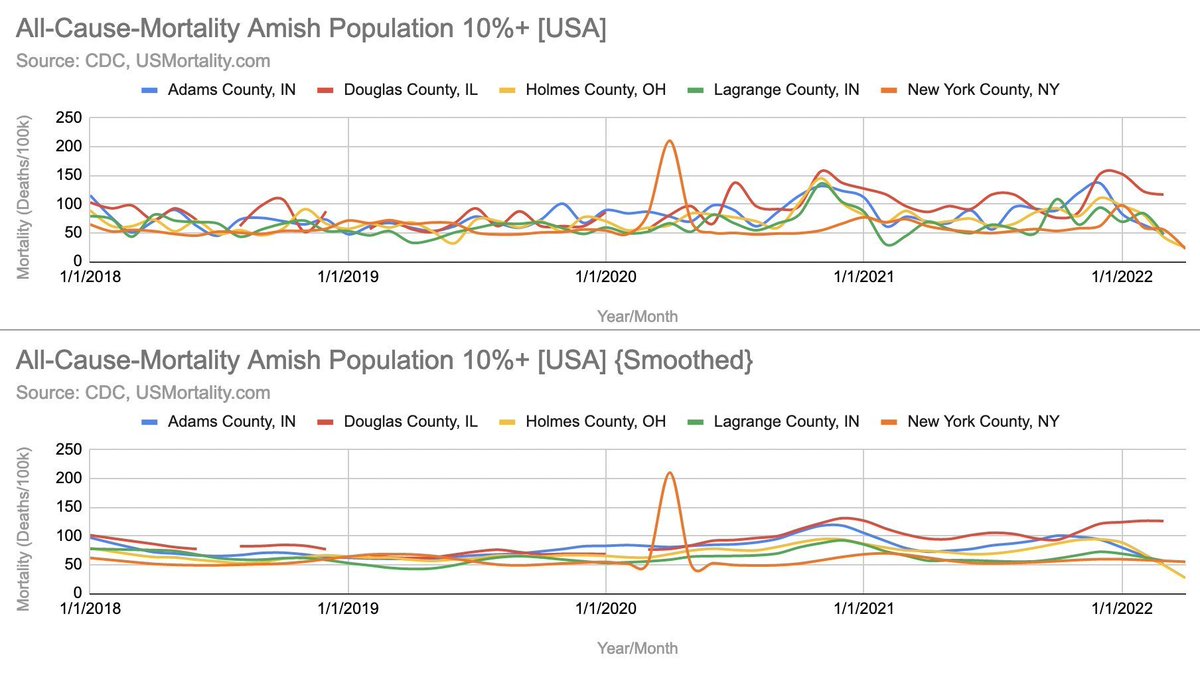 5/ Did people forecast in 2021? Yes. They predicted end of disease.
Like the dotted lines which is what you should get with VE 90%-95% (10x – 20x HR reduction).
Not a single clown on earth forecasted that it would look like always (stable death trend).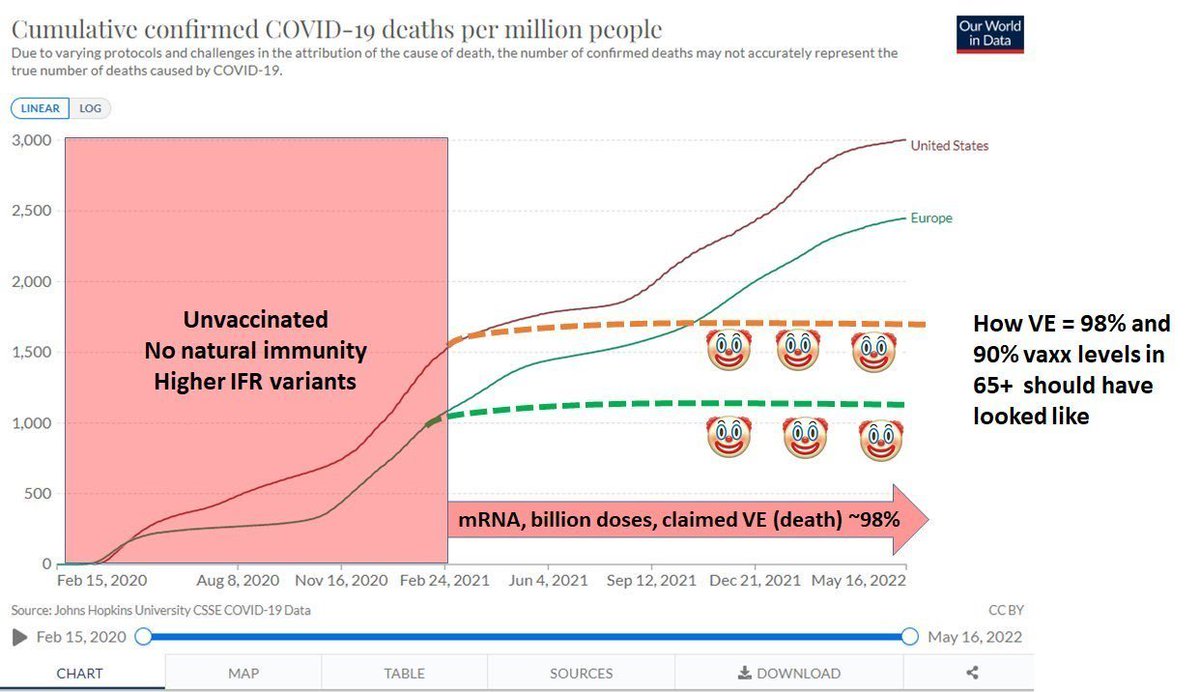 6/ Some people @kamleshkhunti did how it should work. Hypothesis 01/2021. It was false.
https://twitter.com/kamleshkhunti/status/1349634388301148160?s=20&t=stjgsyh9jc4Mkcer_bv0wg
The VEs (death) seem to be wrong. The RCT wasn't designed for death as end point in the first place.
Later VEs are confounded (also the post cohort matched) ones.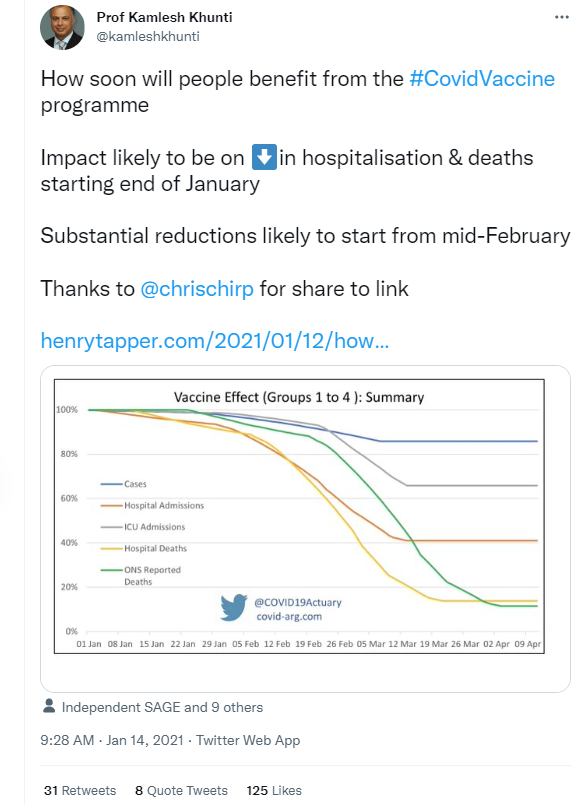 7/ Did they explain why Africa isn't having a mortality Armageddon?
Watch them come complain about age confounding, while they still push age unadjusted OWID mortality when it serves them to push panic.
If they complain, we know that they admit fraud.
8/ What does 4% vaccinated Nigeria has to say to "scientists" @ojwatson92 @azraghani?
Imagine how bad it would have been with? 😅
In @raoult_didier words: "Covid models: They publish in the best journals. I don't know what it is, but it's not science."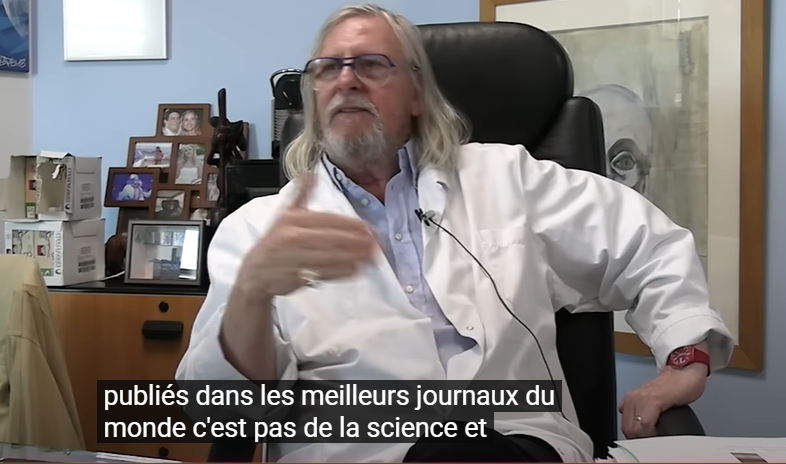 9/The funding: Is this peer reviewed vaccine marketing @TheLancet ?
WHO, HSBC, AIDS Fund, Moderna, Vaccine Alliance, Gavi Bill Gates…
"The Economist" for excess deaths calculation? They don't understand age adjustement.
👉https://twitter.com/orwell2022/status/1533464198654701570?s=20&t=FGyHxu5iJDyOdefGpNukIQ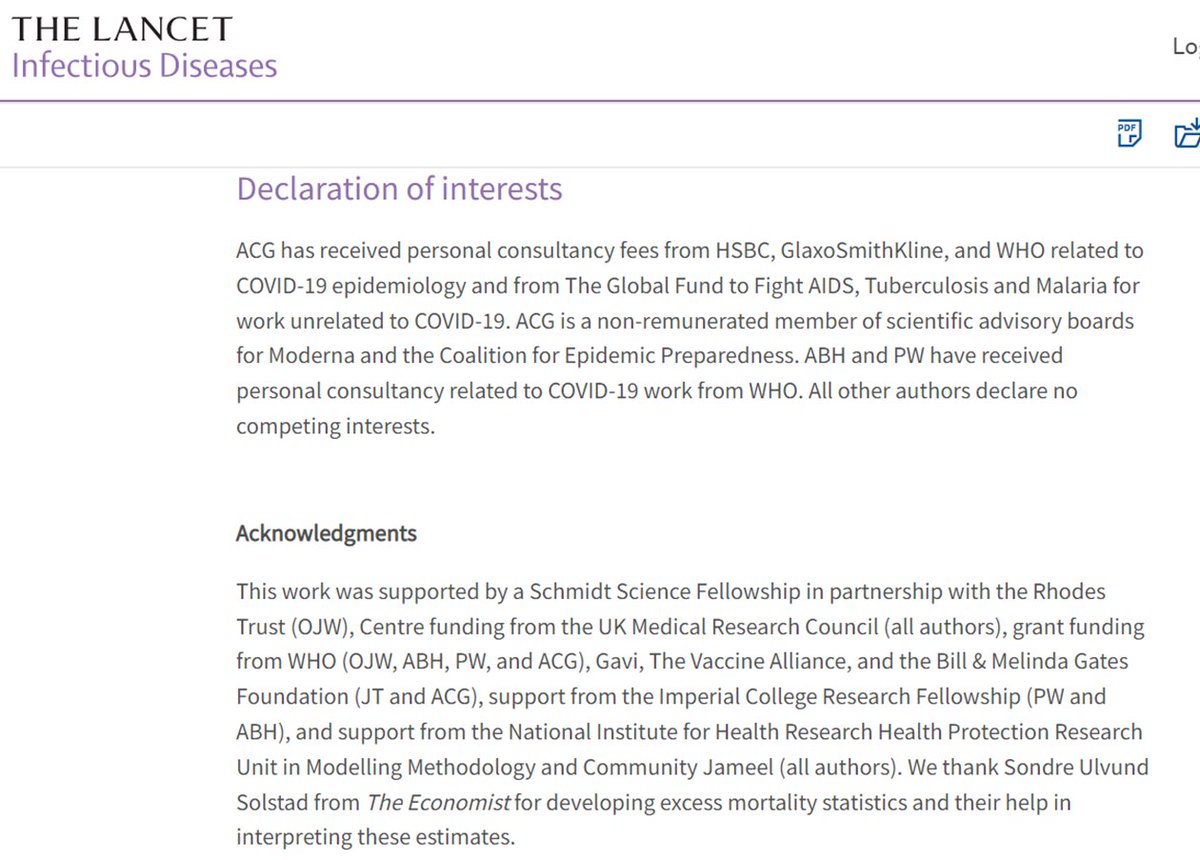 Originally tweeted by Orwell2024 (@orwell2022) on June 27, 2022.